Amana Heat Pumps
Heat pumps have become a popular home comfort solution in recent years for a variety of reasons. Their ability to both heat and cool a home, meaning year–round indoor temperatures are controlled with a single unit, is a big advantage. These revolutionary systems also eliminate the need for combustible fuel because heat pumps draw hidden heating or cooling energy from the air outside.
The heat pump specialists at Millie's Heating & Air Conditioning highly recommend Amana brand heat pumps for homes in the Arlington, Virginia area. Amana products have a history of keeping homeowners comfortable, dating back to 1934. You know you're getting a quality product when you select one of their heat pumps. Amana offers a wide variety of heat pumps designed to meet the budgets and home heating needs of homes and families of all sizes. Call us today to talk to our experts. We'll help you learn how a new Amana heat pump can save you money on your monthly energy bills and discuss which unit might be the year–round home comfort solution for you.
ASZC18 Heat Pump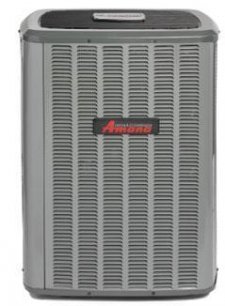 Up to 18 SEER/ 9.5 HSPF Performance
R–410A Chlorine–Free Refrigerant
ComfortNet™ Communication System
Outstanding Warranty Protection*
We believe that this may be the best warranty in the air conditioning business. The compressor in your new ASZC18 heat pump system is covered by a Lifetime Limited Warranty.* If the compressor ever fails, a new heat pump unit will be provided to the original purchaser of the central heat pump system as long as they live in the same single–family residence. All remaining functional parts are covered by a 10–Year Parts Limited Warranty*. For a full description of all warranties applicable to this product, please click on the consumer brochure or product warranty links above.
Product Features
ComfortNet Communications System compatible
R–410A chlorine–free refrigerant
Two–stage Copeland® UltraTech scroll compressor
SmartShift™ technology with short–cycle protection
Factory–installed suction line accumulator
Expanded ComfortAlert™ diagnostics built in
Set–up capable with two low–voltage wires to outdoor unit
Compressor short–cycle protection
Diagnostic indicator lights and storage of six fault codes
Factory–installed compressor crankcase heater
Color–coded terminal strip for non–communicating set–up
Factory–installed filter dryer
Factory–installed high–capacity muffler
Two–speed quiet condenser fan motor
High– and low–pressure switches
AHRI certified; ETL listed
Year–round exceptional heating and cooling energy–efficiency is a primary benefit delivered by this heat pump system. It provides improved temperature and humidity control, and it uses R–410A chlorine free refrigerant. All features are what we believe to be among the best in the heating and cooling industry.